New York Lathe cuts, Lathe cut record service in New York City headed by record cutting engineer Rich Flores, known for cutting The Misfits first 45 vinyl, "Cough Cool" in 1977.

The Best Sounding custom 7" Inch Lathe Cut Records for Just $10.00

Fast turnaround 2 days, made of 1.6 mm .060 clear polycarbonate. The grooves are embossed. Each disc recorded in real time for limited runs of 20 copies or less. I can cut lacquers or emboss polycarbonate reference discs on the same Scully lathe, by just changing the sapphire stylus to a "cutting" or "embossing" sapphire stylus.

Have your music on round lathe cuts made of clear polycarbonate plastic.
NO INTERNATIONAL SHIPPING - I ONLY SPECIALIZE IN 7" INCH polycarbonate RECORDS
OPTIONS
Size 7"
RPM 33 RPM, 45 RPM
Min quantity 1
Max quantity 25
Lacquer cutting
Equipment
Scully 601 Lathe with Crestron controller
WESTREX 3D Cutter Head/ Hammond AO-58 /EL34 Tube Amp
HAECO AD-2 RIAA Pre amp
TELETRONIX Clone LA-2 Optical units optoT4B by Soundscape
Behringer Ultra-Dyne 9024 for De-Essing
Pioneer S-MT3W Monitor Speakers
US Audio Whirlwind Preamp monitor
Luxman PD-272 Turntable / Stanton 681
HP 1200B Oscilloscope Phase monitor
Audacity / VLC /Cool Edit Software/Foobar2000
Price list
Price list
All orders must be paid up front in FULL before work begins.

NO MINIMUMS
Maximum Quantity 25 per order for 7 inch 45 or 33 rpm.

NO SET-UP FEES EVER !
Single or Two sided - same price

Pricing For Clear Records
7" Disc - 45 rpm - 4:00 mins $10
7" Disc - 33 rpm EP - 6:00 mins $12

Pricing For Black Records
7" Disc - 45 rpm - 4:00 mins $11
7" Disc - 33 rpm EP - 6:30 mins $13
Clients
Fast turn around times for 5 copies, usually 2 days.
For quantities of 25, about a week.
About
I currently run New York Lathe Cuts in NY as a Mastering Engineer. Specializing in embossing polycarbonate. I manufacture the only Embossing Sapphire Recording Styli made especially for recording polycarbonate record blanks available at: https://www.recordlatheparts.com/products/sapphire-embossing-cones

I started cutting acetates back in 1972 With Walter Gibbons. He and I started Melting Pot Sound, a acetate dub plate record cutting service for DJ's. Long after many years, I discovered in 1976, Walter Gibbons was secretly working with Frank Trimarco from Sunshine Sound. I decided to give up the business in 1986 to go into the NEON sign business and sold my lathe on consignment to Robert S.Cosulich of TRANSCO PRODUCTS CORP in Linden, NJ.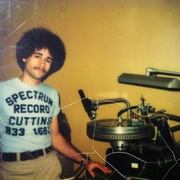 News
We're NOT CLOSED
Some how my listing was archived as CLOSED. New Website: https://lathecutrecord.com/
26 August 2023