Vinyl records production (12", 7"; 180/140 grams), individual design / colours, high quality prints, small runs (from 100)
OPTIONS
Size 7", 12"
RPM 33 RPM, 45 RPM
Vinyl Color Black, Coloured, Picture disc, Transparent
Min quantity 100
Weight 70 gr, 140 gr, 180 gr
Heavy vinyl
Centre labels One colour, Full colour
Turnaround time 1-2 months
Test pressing
Lacquer cutting
Direct Metal Mastering
Sleeves packaging
Lamination sleeves
Full colour sleeves
Inner sleeves
Digital download cards
Equipment
NEWBILT Duplex system

The NEWBILT Duplex system comprises of two presses and one extruder. Linked through a state of the art control system and based on a proven design, we use modern technology to further boost cycle time, reliability and quality. This also helps reducing the environmental impact. The cycle time depends on various factors, starting with raw material composition and ending with environmental conditions. Our experience show that on average a cycle time of 30 seconds is a reasonable calculation basis.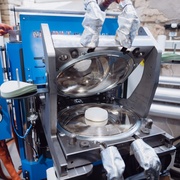 Price list
Individual requests - individual offers! Just tell us, what you like @ armin@greenlakespressing.com and we will send you the exact price calculation. Or get a quote at https://greenlakespressing.com/
About
Green Lakes promises the best quality at unbeatable prices, combined with fast logistics. Seven weeks from order to delivery.
We press on the the latest models from Newbilt Machinery, the German flagship manufacturer of vinyl presses.
In the historic surrounding of a restored 16th-century paper mill, up to 1,200 vinyl records of various colours and sizes can now be pressed every day. Individuality is given great importance. We offer small print runs with sophisticated designs.

Green Lakes Pressing places great emphasis on environmental friendliness and sustainability. The company uses recycled materials for packaging upon request and has optimized its production processes to reduce energy consumption and minimize waste. The name of the new company is derived from the location of the factory in the recreation area "Green Lakes" on the outskirts of the capital of the Baltic republic.

Capacity at Green Lakes Pressing is deliberately being kept available for customers throughout the EU and beyond.