Our project manager Anastasia Kuzmina met Andrey Belonogov, Head of the record label Ultra Production, to ask him few questions about his company.
– Why vinyl?
– That was an idea of our shareholder. He is a collector and a vinyl lover. Gradually it became our business idea. It was a world trend, there was development everywhere, and there was no market at all in Russia.
The story started in the beginning of 2010s with buying proper machines and equipment. The factory was aimed to become a full cycle plant. It means we couldn't cut lacquers or produce matrices somewhere else. No one is doing it in our country, and we had nobody to ask, we had no choice.
Our first samples were awful: the quality was bad and awry. There were no instructions, so a lot of time was spent on education and to get everything looks okay.
I guess it was the end of 2014 when we began to take commercial orders and print our own releases. The quality of the records we produced became appropriate and could compete more or less with world factories' production.
Next years things became better. Nowadays our customers from 2017-2018 years who used to print in Europe – in Czech, France, Scandinavia – note that we have even better quality, considering better sound and higher quality records. I can't say that we have it completely true, but the stories are not fictional. Everybody, including DJs and classical musicians, notes that our quality is higher and the product is better.
– How does it feel to revive the vinyl industry in Russia?
– Actually, every revival is complicated, especially when it comes to Russia, because this is the country with a very specific market. Sometimes it's an unpredictable economy, so it is pretty risky to revive something global, you never know where it could lead you…
When everything has gone to digital, people began missing tactile sensations apparently
– In one of your interviews, it was told that you have returned the machines of famous USSR "Melodia" label. Please, tell us how did it happen?
– Well, in fact, the story appeared before me, I haven't been working yet. As I know the machines that we have now were placed on Melodia factory. The machines' items say so.
– Tell us, how many machines you have? How many employees? How many requests do you get per day?
– Our company is neither a small nor huge, it's an average one. At the moment we got 4 releasing machines. There are extra machines, that got set up sometimes.
It's a pretty complicated system, as the machines are not brand new, they all 1980s year of issue, you can't just plug them in. It's a whole method.
There is also one German machine in our company that stands like a monument. It works but we never have time to set it up and to begin printing. So, basically, we got automatic AlfaTulips since the past.
– What's your opinion on thanks to what the vinyl revival is happening now?
– I think that music was always on material carriers, and when everything has gone to digital, people began missing tactile sensations apparently. In 2018 you can't get this feeling from a cassette or a disk because it has ended.
– You told in one of the interviews that "after 4 years of work production's volume increased 70%, and the records release plan is scheduled a year ahead". What do you think, how long the tendency will last, and how many years will vinyl be popular?
– It's hard to say when will it end, but I'm sure it won't be closed during next several years, at least in Russia. This is why we talk about revival because customer's interest is increasing.
It came to the point that last year we stopped producing our own releases and begun working only on requests, because we had no time on our own releases, and it's not profitable to open extra shifts for that. There is still more money via orders, and I can say nothing will change fundamentally during the next five years. It's hard to say what will happen further, technologies are developing so fast. So this is a guessing on the coffee grounds. So far we have only seen the rise!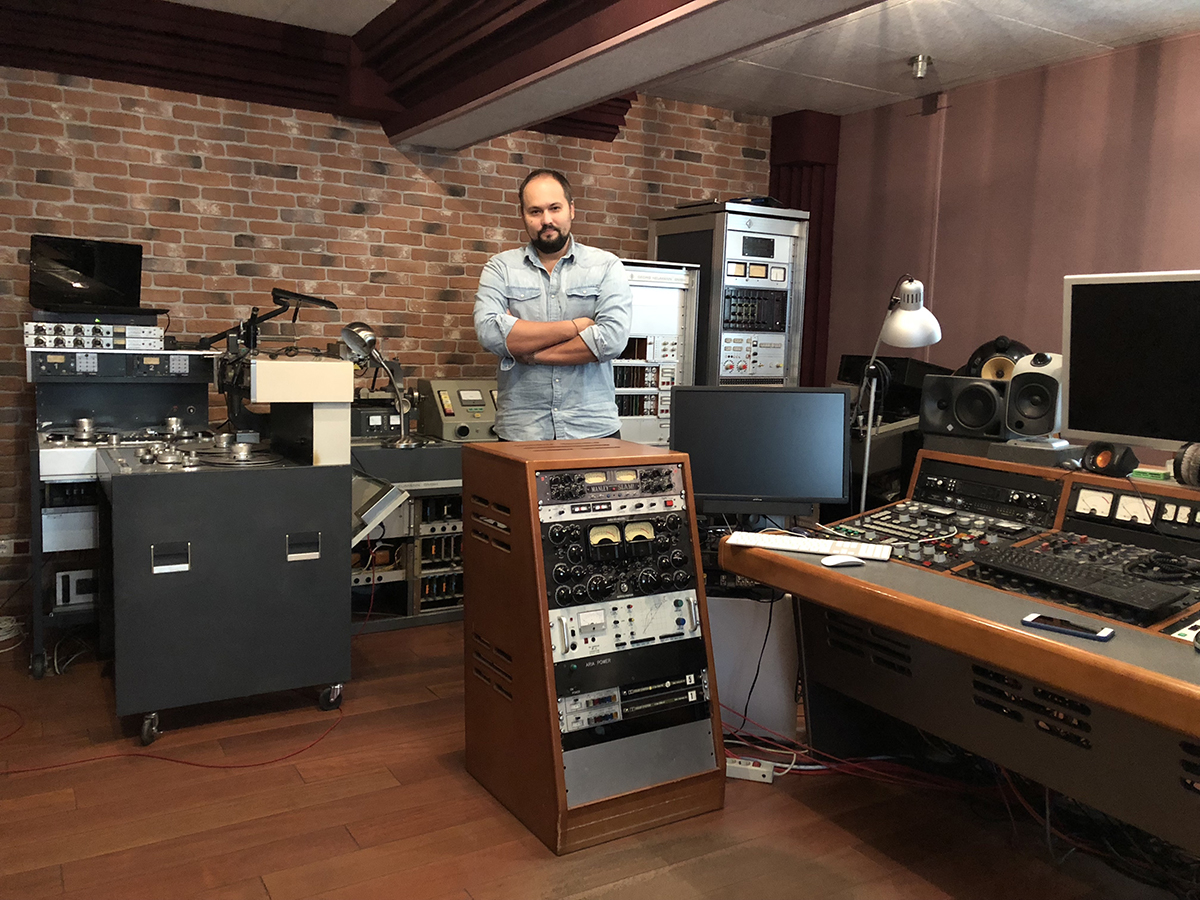 – What are the biggest problems that you faced during the production of vinyl records? How did you deal with it?
– There were no such big problems. There are some problems related to the fact that in such a big country as Russia, in fact, there is no vinyl industry, therefore everything that we have is imported and the main problem is the borders between Russia and European Union. It is harder for us to buy components for production. Everything is solvable, but the longer the more expensive, because of customs duties etc.
But everything's changing: for example this year it is planned that there will be a company in Russia, which already exists, that will produce vinyl and could do exactly what we want with the desired color. Nobody ever produced vinyl before here.
– If not vinyl, then what?
– If not vinyl… It's not disks definitely, not cassettes, although, as far as I know, there is a trend for cassettes now. But I don't think it will take any niche, so if not vinyl, then nothing. Nothing that can compete in a such a material form.
Vinyl is a unique story.
Visit Ultra Production website: http://vinylrecords.ru/